Hey Alexa, Can You Hear Me Now?
How cool is it to say something and have your car act on it? "Play my favorite song," or "Add my meeting with world leaders to my calendar," or "Take me to the nearest Radio Shack." Okay that last one's tough, but digital assistants are almost ubiquitous in cars these days. (more…)
Remember Windows 95?
Let's go back to the day when IT professionals wore wire-rimmed glasses and pocket protectors. They didn't want to stain the pockets of their white short-sleeved shirts or black ties. In fact, let's replay the entire (more…)
The Art Of Collection
773 million. That's a lot. And That's how many records were exposed in what's being called a "monster breach" or a "breach of breaches." The data was collected over time and displayed publicly on a cloud service and then a popular hacking forum. (more…)
Life At The Edge Of Acronym
If you live and work in the IT world long enough, you begin to speak in a strange vernacular, a language specific to the task of dispensing information efficiently to others who also know the language. IT, for example, is more efficient than information technology. (more…)
Setting Suns and Setting Goals
As the sun sets on 2018, don't let the lyrics of "Auld Lang Syne" and the prospect of bowl game parties occupy the depth and breadth of your personal hard drive and career objectives. There is, after all, a new year on the horizon, (more…)
Thomas Brazil, Chief Digital Officer at Integrated Computer Solutions (ICS), Inc., will be presenting at Innovacon 2019.
The International Association of Innovation Professionals (IAOIP) is partnering with the U.S Chamber of Commerce to bring you Innova-Con 2019.  (more…)
Nerds In A Bubble
Ever heard of the term "Think Tank?" No doubt you have, and most of them are centered around policy development and political lobbying in our state and national capitols. Some gravitate to specific areas of interest, like oil and gas, foreign relations, or (more…)
Captain Of The Enterprise
Remember when the Enterprise would hurtle through time and space under the calm direction of Jim and Spock and Dr. Whatshisname? Those were the days, right? Threats were seen in advance, galaxies away, and even shown on the big screen before actual engagement was necessary. (more…)
We Are the Shhh of IT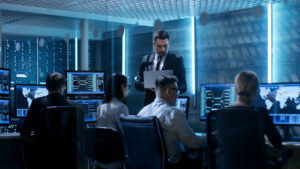 At ICS, we don't compromise when it comes to delivering more than our customers expect. We're so focused on that mission that it seems the only thing we fail to do with equal fervor is tell our own story or toot our own horn. Despite the relative silence, our business has grown in parallel with our clients, whose IT needs have been met professionally and selflessly and, yes, quietly. We're like the E.F. Hutton of the IT world, and if you recognize that reference, congratulations on your longevity in the tech industry.
(more…)
The Luddite Next Door
Can you imagine developing a product these days through a process that never once considers the Internet? Utility, distribution, sales, marketing, back-end, and customer support are some of the constituent parts of your new product's development that will never even brush up against the Internet. Tough to fathom such a circumstance in today's environment. Even a resurgent buggy whip manufacturer is likely to secure www.buggywhip.com fairly early in the thought process. (more…)
Nanny Cam Gone Rogue
Everybody knows the Internet of Things is changing the way we live in substantive ways, from thermostats and toaster ovens to alarm systems and lighting controls. If you're sitting at a hotel bar in Schenectady and want to mix a smoothie in your own kitchen back in Phoenix, there's an app for that. You might also ask yourself why you're sitting in a hotel bar in Schenectady, but that's another story. (more…)
The Abstract And The Concrete
The world is abuzz with stories of breaches and cyberthreats, accounts of stolen data and stolen identities. Some famous names are thrown around, names that you know and trust, but the story usually involves someone else, another company or an anonymous cast of unlucky souls who trusted their data to their favorite store or credit card company. (more…)
The Hunter Becomes The Hunted
Ever get the feeling that you are being watched? Has that sensation become even more pronounced as you have transitioned into the digital age? (more…)
Santa Claus, Cyber Savant
'Tis the night before Christmas. You've hung the stockings with care and set out the cookies and carrots. Your organization's year-end results suggest that you've been good, but you better not cry, better not pout, and here's why: you're hoping for even more growth in 2018 and Santa's coming to town. (more…)
5 Easy Steps to Creating Complex Passwords that are Easy to Remember but Hard to Hack
Recently, Splash Data released a list of the 25 worst passwords for 2013. It contained all the usual suspects for "so easy to hack as to be utterly useless."  If your password is on this list, please keep reading:  http://splashdata.com/press/worstpasswords2013.htm (more…)